SHOCK TOWER PDST series
Pull-down Drop Shock Tester PDST Series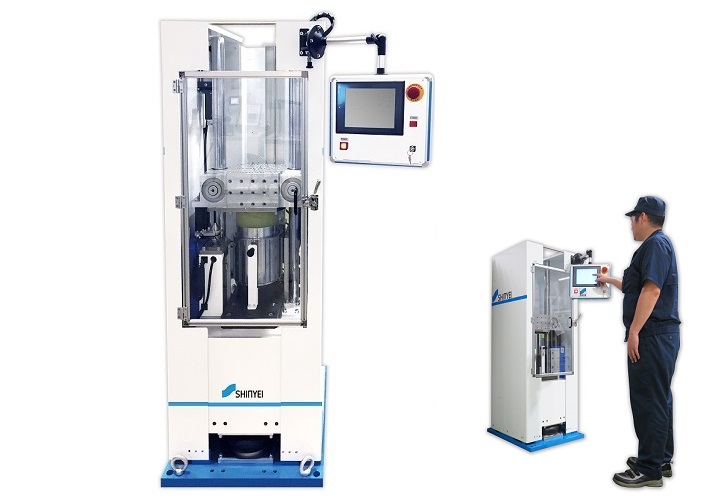 Compact and High Performance Shock Test Machine
PDST-230 is a new mechanical based shock testing system in which the shock table is pulled-down mechanically, with compact built that is able to conduct mechanical shock test on to smartphones, tablets, computers and other devices. This new Shock Test Machine meets a wide range of requirements for shock testing and with compact size is easily installed in various location.

Features
Pull-down type Shock Test Machine (patent pending)
Compact size (about 50% downsizing comparison with the conventional free-fall style Shock Test Machine)
Shock pulse up to 300,000m/s² (30,000G) by dual-shock amplifier
Selectable of 2 models (multi-shock generator or single cushioning pad)
High repeatability
Safety accessories are standard equipment
PDST Movie
click here to download the movie.
Applications
This shock tester applies to a high shock acceleration for computer's parts, digital cameras, smart phones, tablets, mobiles, displays, small household appliances, and mobile products for the Product fragility testing.
Specification
Model
PDST-230M
PDST-230S
Table size(mm)
236 × 236
Testable mass(kg)
up to 20
Shock pulse shape
Half-sine
Shock acceleration
range(m/s²)
490 ~ 7840(50 ~ 800G)
1470 ~ 22540(150 ~ 2300G)
Optional shock
acceleration range(m/s²)
98,000 (10,000G) ~ 294,000 (30,000G) at 0.07 ~ 0.2 ms * HGP-150 use
Pulse duration
range (ms)
2.5 ~ 20(multi-shock generator)
0.5 / 1 / 3(single cushioningg pad)
* select 1 in 3 programmers
Velocity change(m/s)
15 max.
Base
Pneumatic springs and hydraulic damper device
Break system
Pneumatic-hydraulic brake system
Test mode
Single shot / Multi-shock mode
Size
(W × D × H mm)
650 × 800 × 1800
Capacity (kg)
1500
Power supply
100~240VAC
Air supply
over 0.8MPa and 350dm³
Applied
Standards
JEDEC(JESD22-B111, JEITA(ET-7409/106)、
MIL-STD-810F, JIS C 60068-2-27, IEC 60068-2-27-87
Option for PDST230
Additional programmer
Shock programmers (duration is 0.5ms, 1ms, 3ms) are lined-up for additional order
Shock Manager
SM-500
Measurement instrument for shock acceleration, Shock Manager SM-500
Dual-shock amplifier
High acceleration about 300,000m/s²(30,000G) are generated when shock duration time is 0.2 / 0.5 / 1 / 2 by HGP series.
HGP series Link
Safety equipment
Signal light for safetyLink
Others
Air compressor, Acceleration pick-up