Drop Test
Drop test has been carried out by 2 purposes. One is for packaged product, Fig.5, and the other is for product itself, Fig.6.
Drop Tester for Packaged Product
Drop test for packaged products has been used to evaluate their shock absorb function by cushioning material. This kind of drop testers are 3 types, rotational drop arm type (DTS series), electrical released hook type (EMH series) and fork-table type (DT-300). You can select a suitable tester from the products weight and drop height you request.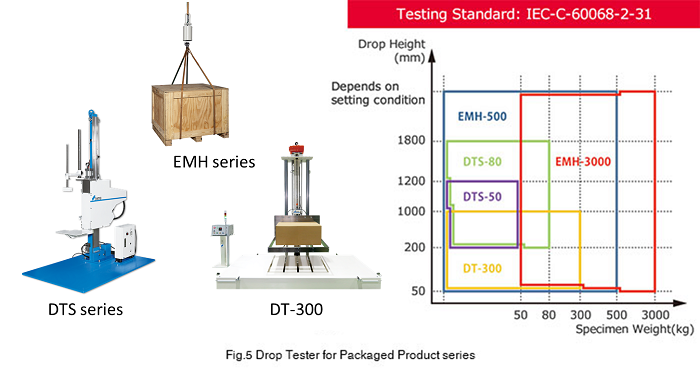 Drop Tester for Product Itself
Drop tester for product itself is categorized to holding drop model (DT200series) and rotational drum model (RDT1000). Holding drop tester has been used for mobile products and mechanism of this tester can realize free fall of product itself and holding module. It releases specimen just before impact to surface. This mechanism leads to be high accuracy repeatability. For example, it is effective for edge drop of smart device. Also, surface can be changed easily to apply product's actual situation, by putting the board of concrete, wooden plate and carpet floor, so on. Drum tester carries out the random drop for small device by rotational drum along with JIS-C-60068-2-31.
You can select the drop tester from required drop height according testing standard or product's weight.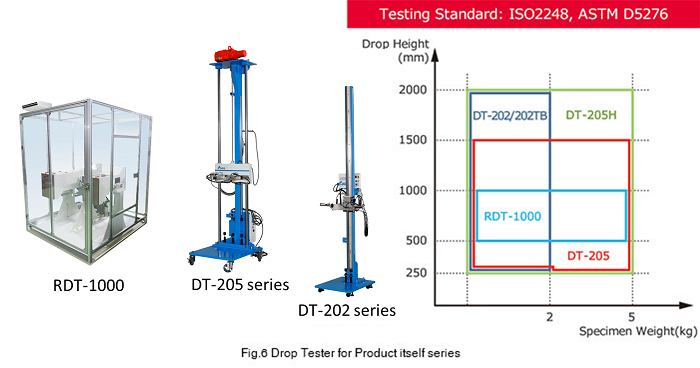 High speed camera system is used to confirm the product's motion at the impact to surface by DT-202. This system brings you effective development of new product, and you can find the weak point of the products quickly, or make a quantity evaluation of displacement of product by drop.