CALIBRATION SYSTEM for shock acceleration
Combination of Shock Test Machine & Acceleration Measurement PST-300, SM-500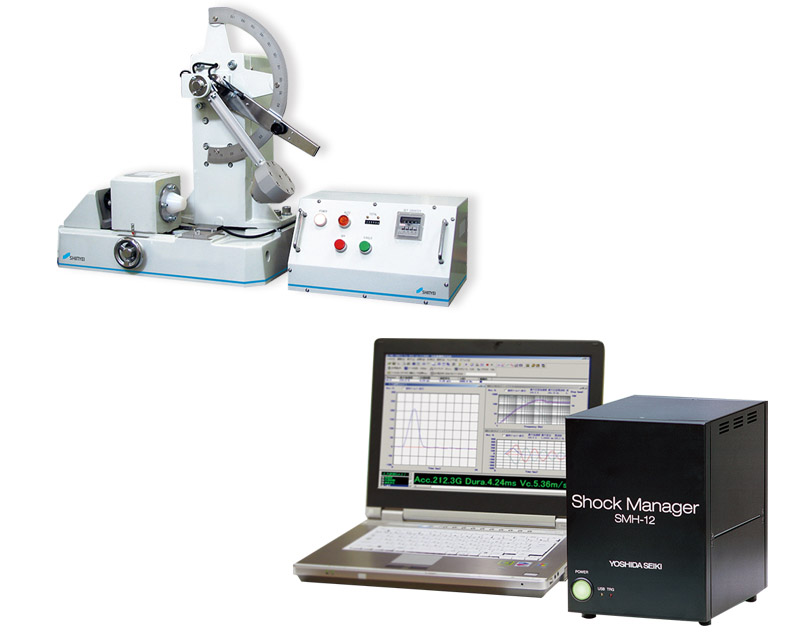 Caribrator for Shock Acceleration Pick-up
This calibration system is based on ISO16063-22 with shock acceleration. Our company has developed the new calibration system for shock acceleration in collaboration with National Institute of Advanced Industrial Science and Technology. And this system has been accredited the certification of ISO / IEC 17025 on 28th December 2016. We provide international and reliable calibration service for shock acceleration.
About calibration system for shock acceleration
Our calibration system is composed of the pendulum shock testing machine (PST-300) which used by ISO 16063-22 and ISO 6487 and the high speed shock testing system (SM-500).
The targeted calibration is for the piezoelectric acceleration pickup. We calibrate it by comparing it with a reference standard pickup. PST-300 and SM-500 can evaluate acceler-ation up to 50000m/s2, it's available for calibrating acceler-ation pickup for car crash tests , shock tests of electronic devices, or so.
Features
Shock generator (PST-300) can generate a high acceleration shock pulse up to 5000G
Compact design that can be installed anywhere
Acceleration measurement system (Acceleration Measurement) that can caputure and confirm the shock pulse at a glance
Applications
Calibration of acceleration pickup
Specification
| | |
| --- | --- |
| Shock acceleration range (G) | 5 ~ 5000 |
| Acceleration measurement AD resolution | 16bit |
| Calibration method | Comparative calibration by shock acceleration |
| Compliance standard | ISO16063-22 |