MATERIAL TESTING SYSTEM CT series
Compression Tester for Corrugated Box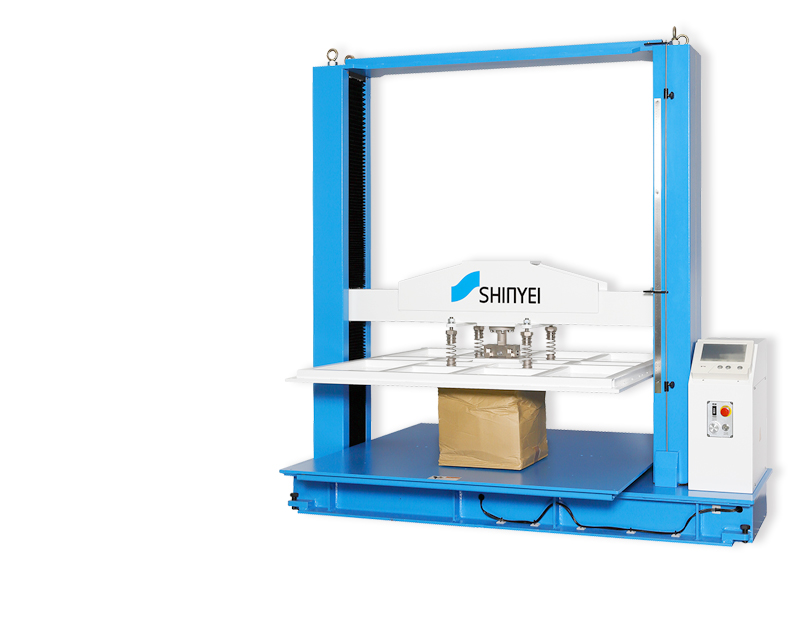 Compression Tester for Packaging and Corrugated Box
Corrugated box encounters static compression hazards during stack storage in a warehouse with long periods of time. To prevent issues such as bucking or collapse of stacked boxes, compression tests have to be performed.
Features
Multiple Testing Modes
A compression mode with constant speed and a creep mode is selectable.
Easy operation
Via user friendly PC software, everyone can conduct the compression test with easy. All testing results, load, displacement, etc. is displayed and stored on PC.
Applied Standard
ISO 2872
ISO 12048
ASTM D4169
JIS Z 0212
Applications
Compressive strength test for packaged freight with products.
Compressive strength test for the empty corrugated box
Specification
Model
CT-1000-2
CT-1000-5
CT-1200-2
CT-1200-5
Testing space (W × D × H mm)
1000 × 1000 × 1200
1200 × 1200 × 1200
Testing lord (kN)
20 (2000kgf)
50 (5000kgf)
20 (2000kgf)
50 (5000kgf)
Compression speed (mm/min)
0.1 ~ 300
Motor type
Servo motor
Compressive platen
Universal Joint / Fixed Joint (Changeable)
Safety function
Safety limiter of platen, Emergency button, Earth leakage breaker
PC connection
TCP / IP(LAN)
Power (single phase)
AC200 ~ 240V, 5A
AC200 ~ 240V, 8A
AC200 ~ 240V, 5A
AC200 ~ 240V, 8A
Size(W × D ×H mm)
1560×1000×1960
1760×1200×1960
Weight(kg)
765
990
Controll PC software
Windows 7 / 10 (32 / 64 bit) ※ PC sold separately
Options
| | |
| --- | --- |
| Power transformer | AC100V compatible |
| PC | Selling separately |